Back
Fragrant pepper Sichuan, dried, 57g
---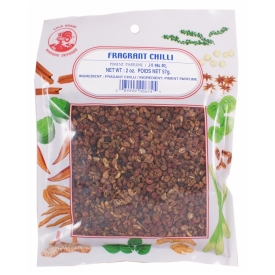 Brand:

COCK BRAND

EAN:

084909006745

Category:

Whole spices and seeds

Country of origin:

Thailand

Quantity (kg/l/pcs):

0.057

Price per kg:

59.30 EUR

Units per package:

24 pcs

Best before date:

08.11.2023.
Sichuan aromatic peppers are not actually peppers, they are the reddish-brown fruits of the Zanthoxylum shrub. They are grown in the mountainous areas of China and are the most popular spice in Chinese cuisine, especially in the Sichuan region. Sichuan peppers are one of the key ingredients in the five-spice powder, which is a particularly popular spice mix in China and other Eastern countries. Sichuan aromatic peppers are likened to lavender, but chefs believe that combined with chili peppers, they temper the spiciness, helping to enjoy the flavour and aroma of the food. They have a spicy, sour and refreshing flavour, complemented by other nuances of flavour. They will complement poultry, fish, shellfish, noodles and rice dishes amazingly.
Product information:
Product may look differ from a picture.
Delivered product may be in different packaging, color and form.
Product description on the site may vary from the informatin on the product packaging, as the ingredientcs may vary.
We recommend that you always read the information on the product packaging.
A Supplier: