Back
Wholegrain Basmati rice, 500g
---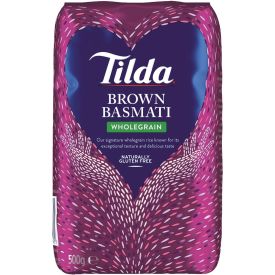 Brand:

TILDA

EAN:

5011157670119

Category:

Basmati & other rice

Country of origin:

India

Quantity (kg/l/pcs):

0.5

Price per kg:

6.46 EUR

Units per package:

10 pcs

Best before date:

31.07.2024.
Brown Basmati rice is also called whole-grain rice. With the bran layer intact, the rice has a distinctive nutty flavour. It is rich in nutrients and natural fibre, making it the ultimate rice for a healthy lifestyle. It is delicious in soups, salads, vegetable mixtures such as ratatouille and stronger flavoured casseroles. There is a lot of dietary fibre in brown rice, which helps reduce the cholesterol level.
Product information:
Product may differ from the picture.
Delivered product may be in a different packaging, colour and form.
Product description on the site may vary from the information on the product packaging, as the ingredients may vary.
We recommend always reading the information on the product packaging.
A Supplier:
Recommended products

Moroccan Meatball Sauce, Medium Hot, 450g
AL'FEZ

Apricot & Coriander Sauce, Mild, 450g
AL'FEZ

Lebanese style Falafel, 150g
AL'FEZ