Back
Tapioca pearls, 400g
---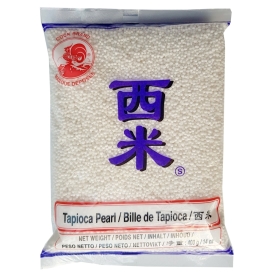 Brand:

COCK BRAND

EAN:

8858826308976

Category:

Other asian products

Country of origin:

Thailand

Quantity (kg/l/pcs):

0.4

Price per kg:

5.00 EUR

Units per package:

24 pcs

Best before date:

19.10.2023.
White solid pearls made of tapioca starch. When tapioca pearls are prepared for use, they turn into translucent, small jelly-like balls with a neutral flavour, and they easily take the overall flavour and colour of the food or drink. Ideal for making puddings and drinks to give them an interesting, jelly-like consistency. Tapioca pudding recipe recommendation: Wash 170 g of tapioca pearls in cold water, drain and set aside. Pour 3 cups of water into a saucepan and bring to a boil, add 3 teaspoons of sugar and a pinch of salt, let it dissolve. Add tapioca pearls and bring to a boil. Then add a cup of coconut milk and continue to cook on low heat. Stir occasionally and in 30 minutes serve warm, or cold later. STORE IN: a cool, dry place. MADE IN: Thailand.
Product information:
Product may look differ from a picture.
Delivered product may be in different packaging, color and form.
Product description on the site may vary from the informatin on the product packaging, as the ingredientcs may vary.
We recommend that you always read the information on the product packaging.
A Supplier: