Back
Surimi Naruto Maki, steamed, frozen, 160g
---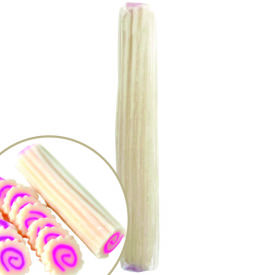 Brand:

SALDĒTIE PRODUKTI

EAN:

031977514306

Category:

Fish and seafood

Country of origin:

China

Quantity (kg/l/pcs):

0.16

Price per kg:

26.38 EUR

Units per package:

100 pcs

Best before date:

24.06.2024.
Frozen products can only be recieved at SIA CESARS office or by courier in Riga.
Naruto maki is a type of kamaboko or salted fish surimi made in Japan. Each cloud-shaped Naruto slice has a pink or red spiral pattern that is meant to resemble Naruto's whirlwinds. Naruto maki is a common addition to Japanese noodles such as Tokyo-style ramen. Net weight: 160g. Store at -18 °C. Do not refreeze after thawing!
Product information:
Product may differ from the picture.
Delivered product may be in a different packaging, colour and form.
Product description on the site may vary from the information on the product packaging, as the ingredients may vary.
We recommend always reading the information on the product packaging.
A Supplier: