Back
Kimchi sauce, 450g
---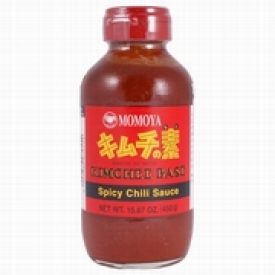 Brand:

DAŽĀDI

EAN:

4902880068643

Category:

Other sauces & pastes

Country of origin:

Japan

Quantity (kg/l/pcs):

0.45

Price per kg:

20.67 EUR

Units per package:

6 pcs

Best before date:

27.10.2023.
Kimchi (Kimchee) is Korean pickled vegetables, which are traditionally served with every meal. Kimchi is a red base and it looks like a spicy tomato sauce, but it is actually made of garlic, red chilli pepper, ginger, vinegar, and salt. Also suitable for snack sauces. Kimchi is the sauce for a Korean dish called Kimchi. Classic Kimchi consists of Napa cabbage, which is pickled together with red pepper. Kimchi sauce is the most common garnish in Korea, besides, it is the main ingredient for many popular dishes, for example, Kimchi stew, Kimchi soup, and Kimchi fried rice. You can make your own Kimchi at home by using this red, spicy Kimchi base. Kimchi may be made of various vegetables, but the healthiest and most popular version is based on cabbage.
Product information:
Product may look differ from a picture.
Delivered product may be in different packaging, color and form.
Product description on the site may vary from the informatin on the product packaging, as the ingredientcs may vary.
We recommend that you always read the information on the product packaging.
A Supplier: