Back
Green tea (Matcha) Ice cream Mochi, frozen, 192 g (6x32g)
---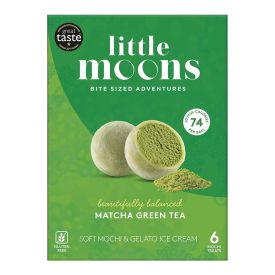 Brand:

SALDĒTIE PRODUKTI

EAN:

5027324001174

Category:

Desserts

Country of origin:

United Kingdom

Quantity (kg/l/pcs):

0.195

Price per kg:

34.46 EUR

Units per package:

10 pcs

Best before date:

30.09.2024.
Frozen products can only be recieved at SIA CESARS office or by courier in Riga.
Little Moons mochi consists of two parts. It is surrounded by a sweet, soft and slightly stretchy rice flour dough. This dough is steamed, kneaded and gently wrapped around Italian ice cream (gelato). These are perfectly delicious bite-sized mochi balls. After trying 20 different types of green tea, the recipe uses green tea from the Uji region of Japan. The result is the perfect harmonious and balanced taste of green tea ice cream. No added artificial colors, flavor enhancers and preservatives. Gluten free. Suitable for vegetarians. Do not refreeze. Store at -18°C or below. Serving suggestion: Keep the mochi at room temperature for at least 5 minutes before eating. It's worth the wait!
Product information:
Product may differ from the picture.
Delivered product may be in a different packaging, colour and form.
Product description on the site may vary from the information on the product packaging, as the ingredients may vary.
We recommend always reading the information on the product packaging.
A Supplier: