Back
Fermented soy product Tempeh, 395g
---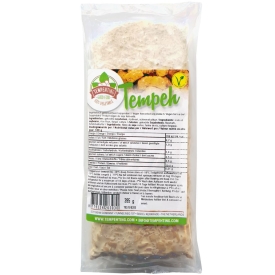 Brand:

SALDĒTIE PRODUKTI

EAN:

8719324263030

Category:

Others

Country of origin:

Netherlands

Quantity (kg/l/pcs):

0.394

Price per kg:

5.81 EUR

Units per package:

10 pcs

Best before date:

28.02.2023.
Frozen products can only be recieved at SIA CESARS office or by courier in Riga.
Fermented soy product Tempeh perfect for vegan and vegetarian. STORAGE: eep frozen at -18°C. Do not freeze again after thawing and keep it in the refrigerator for maximum of 10 days at max 7°C.
Product information:
Product may look differ from a picture.
Delivered product may be in different packaging, color and form.
Product description on the site may vary from the informatin on the product packaging, as the ingredientcs may vary.
We recommend that you always read the information on the product packaging.
A Supplier: