Back
Dought for Gyoza, frozen, 150g
---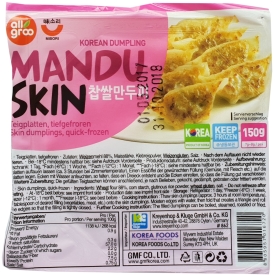 Brand:

SALDĒTIE PRODUKTI

EAN:

8805957016720

Category:

Others

Country of origin:

China

Quantity (kg/l/pcs):

0.15

Price per kg:

11.67 EUR

Units per package:

60 pcs

Best before date:

01.04.2024.
Frozen products can only be recieved at SIA CESARS office or by courier in Riga.
Preparation recommendation: Let the dough thaw (about 3 hours at room temperature). Put a tablespoon of filling of your choice (vegetables, meat, etc.) on the dough. Wet the edges with water, then fold over to form a triangle, and fold the edges up so that the dumpling is tightly closed with the filling inside. Cooking recommendation: the stuffed gyozas can be boiled, steamed, baked in the oven or on a pan. Do not refreeze after thawing. Storage: In the refrigerator: 1 day; -6° C for 1 week, -12° C for 1 month -18° C until the end of the recommended period.
Product information:
Product may differ from the picture.
Delivered product may be in a different packaging, colour and form.
Product description on the site may vary from the information on the product packaging, as the ingredients may vary.
We recommend always reading the information on the product packaging.
A Supplier: