Back
Thai Red Curry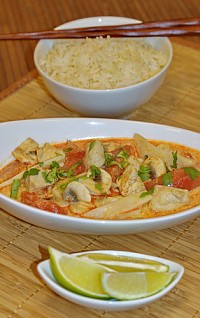 Serves 4
1 tablespoon vegetable oil
1sachet Exotic Food Red Curry Paste
50ml water
400ml Exotic Food Coconut Milk
250g chicken fillet, cut in bite size pieces
1 can Exotic Food Bamboo Shoots
2 teaspoons Fish Sauce
2 tomatoes, cut
5 saml mushrooms, sliced
fresg coriander, chopped
1. Heat oil in pot and add Exotic Food Red Curry Paste and chicken pieces. Stir Fry 2 min.
2. Add water. After 1 min. also add Exotic Food Coconut Milk. Boil 10-12 min.
3. Add Exotic Food Bamboo shoots, tomatoes and mushrooms and keep on boiling some 3-4 min.
4. Add Fish Sauce.
5. Serve in bowl and sprinkle with chopped coriander.
6. Serve with Jasmine rice in separate bowl.
---