Back
Teriyaki Poulet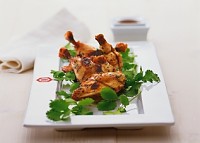 Ingredients for 6 portions:
• 3 small chickens (each weighing about 650 g)
• 125 ml Kikkoman Teriyaki marinade
• 1 tbsp. grated, untreated lemon peel
• 1 tbsp. lemon juice
• 1/4–1/2 tsp. cayenne pepper
• 1–2 tbsp. chopped coriander leaves
Remove the parson's nose and neck from the chickens. Halve the chickens lengthways (this is easiest using poultry shears), rinse under the cold tap, drain briefly and pat dry with kitchen paper. Cut away the breast and legs and put the pieces in a large freezer bag. Mix the Teriyaki marinade, lemon peel and juice, garlic and cayenne pepper and then pour over the chicken. Squeeze the air out of the bag and seal the bag tightly. Turn the bag so that the meat is covered by the marinade. Chill the meat for 8 hours or overnight turning the bag occasionally. First grill the legs on the oiled Teppan Yaki for approx. 10 minutes, turning frequently. Next place the breasts on the Teppan Yaki and cook the meat for a further 5 to 10 minutes or until it is no longer pink in the middle. Arrange the chicken on a serving plate and immediately sprinkle with coriander leaves.
Tip:
Placing the pieces of chicken on a green bed of fresh coriander is particularly appetizing. You could also cook the chicken on a barbecue or under a gas grill instead of on the Teppan Yaki plate. Do not place the grill rack too close to the flame otherwise the chicken will be burnt on the outside and still be raw on the inside. You can also use spring chickens instead of small chickens. These are young chickens that weigh about 450 grammes.