Back
Shivananda cookies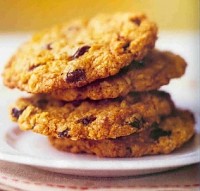 Aprox. 80 pieces.
500g wheat flour
500g oats
300g brown sugar
300g butter
500ml milk
100g saulespusunflower seeds
100g Cashew nuts
100g almonds
100g raisins
50g desicated coconut
50g magoņpoppy seeds
pinch of chilli powder
0.5 teaspoon cinnamon
0.5 teaspoon cardamon powder
0.5 teaspoon Turmeric
0.5 teaspoon grated nutmeg
Saperately mix togeteher dry and moist ingredients. Than mix together both mixtures.
Put on the baking pann baking paper.
Make small round cokkies and put on the baking pann.
Bake in oven 180-200 degree C aprox. 20 min.