Back
Kichari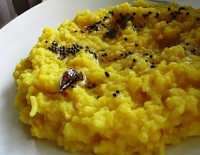 2 cups East End Red Lentils
1 cup East End Royal Basmati rice
4 cups boiling water
1 table spoon. Ghee butter
1 teaspoon East End Kasuri Methi
0.5 teaspoon East End Turmeric powder
0.5 teaspoon Asafaetida
0.5 tteaspoon East End Brown Mustard Seeds
1 teaspoon freshly grated ginger
East End Black Salt- according to taste
Heat Ghee in a ot and add Brown Mustard seeds.
When the seeds start crack, add alll the dry spices except salt. Fry spices a little bit few seconds stirring gently.
Add washed rice and lentils. Mix everything well and add water and salt.
When water starts boil put on the pot cover and boil some 10-15 min on small heat.