Back
Coconut Fruit Smoothie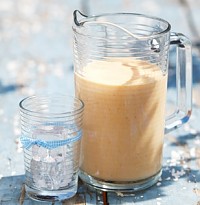 Serves 2
Products:
Exotic Food Coconut Milk
50ml Exotic Food Cocoonut Milk
250ml milk
4 large scoops vanilla ice cream
2 bananas, sliced
150g pineapple, fresh diced (alternatively use canned pineapple chunks)
1 mango
dessicated coconut, for decoration
Pour the Coconut milk and milk into a food processor and process gently until combined.
Add half the ice cream and process gently, add the remaining ice cream and process until smooth.
Add the banana and process rapidly, then add mango and pineapple chunks and process until smooth.
Pour the mixture into tall glasses and scatter with dessicated coconut