Back
Carrot cake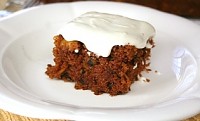 500g wheat flour
30g baking powder
250g sour cream
4-5 carrots
200g butter
250g brown sugar
250-300g raisins, walnuts, dried apricots
1 teaspoon cinnamon
1 teaspoon caedamon powder
1 teaspoon Eat End Garam Masala Powder
0.5 teaspoon East End Turmeric powder
Grate carrots.
Soak raisins and apricots in warm water. Than cut apricots in small pieces.
Mix together in a large bowl walnuts, raisins, carrots, brown sugar and sour cream.
Put a small pot on gas and melt the butter, add dry spices. Little bit cool the butter and add to the ready mix.
Then add wheat flour and baking powder. Mix everything well.
Cover the baking pann with baking paper. Even througoutly the ready cake mix on the pann.
Bake in oven 200 degree C aprox. 30 min.