Back
Red Curry paste, 1kg
---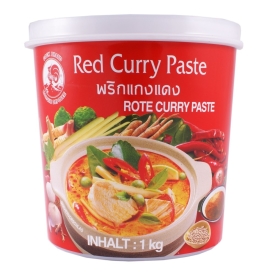 Brand:

COCK BRAND

EAN:

084909002327

Category:

Thai Sauces & Pastes

Country of origin:

Thailand

Quantity (kg/l/pcs):

1

Price per kg:

5.97 EUR

Units per package:

12 pcs

Best before date:

30.11.2022.
Curry paste is a moist blend of ground or pounded herbs and/or spices and other seasonings. Curry paste is primarily known as an important ingredient in Thai cuisine, and it can also be a generic commercial product which substitutes curry powders or spice blends used in other cuisines. Curry pastes are really easy to use. The trick is to fry them in a little water until they are fragrant. Red curry is a popular Thai dish consisting of curry paste to which coconut milk is added. This dish normally has a soup-like consistency and is served in a bowl and eaten with steamed Jasmin rice. Red curry paste itself is the core flavouring for a number of other non-related dishes such as fish cakes and grilled sausage. Use to make Thai Red curry, or a marinade for chicken, fish and red meat and for stir-fry.
Product information:
Product may look differ from a picture.
Delivered product may be in different packaging, color and form.
Product description on the site may vary from the informatin on the product packaging, as the ingredientcs may vary.
We recommend that you always read the information on the product packaging.
A Supplier: