Back
Bread crumb Panko, 120g
---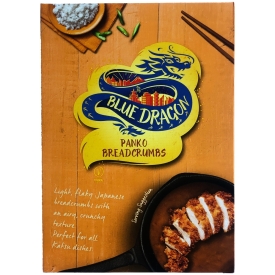 Brand:

BLUE DRAGON

EAN:

5010338014902

Category:

Flour and butter mixes

Country of origin:

Thailand

Quantity (kg/l/pcs):

0.12

Price per kg:

9.08 EUR

Units per package:

6 pcs

Best before date:

31.07.2023.
1.09 EUR
Old price:
2.00 EUR
Panko is a Japanese-style breadcrumb used for the preparation of breaded meat, seafood, or vegetables, as well as for the preparation of poultry stuffing, giving it a pleasant texture. Panko is much lighter and flakier than regular breadcrumbs. During frying, it forms a delicious, crispy crust. It is also used as a binder to thicken sauces and soups, as well as to complement and add texture to desserts. The difference between panko and regular breadcrumbs is that panko is made from a special type of white bread (usually without a crust), which is processed into large flakes and then dried. Therefore, panko flakes are of even consistency, are lighter, especially crispy, and absorb less oil in the cooking process than regular breadcrumbs. Dip meat, fish or vegetables in beaten egg, then coat with panko breadcrumbs. Pan-fry or deep-fry.
Product information:
Product may look differ from a picture.
Delivered product may be in different packaging, color and form.
Product description on the site may vary from the informatin on the product packaging, as the ingredientcs may vary.
We recommend that you always read the information on the product packaging.
Quantity of goods with special prices is limited.
A Supplier: