Back
Balsamic vinegar "Riserva Anna", 100ml
---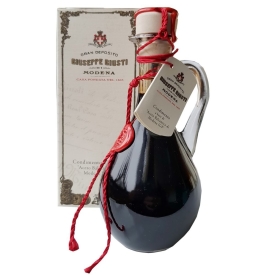 Brand:

GIUSEPPE GIUSTI

EAN:

8006911002371

Category:

Balsamic vinegars & creams

Country of origin:

Italy

Quantity (kg/l/pcs):

0.1

Price per l:

137.50 EUR

Units per package:

6 pcs

Best before date:

31.12.2027.
The "Family Reserve" is a special line of fine balsamic vinegars and condiments dedicated to the Giusti family ancestors. The "Piccole Donne" is a series of sweet, delicate and considerably dense condiments, recalling the local custom, still used today, of bottling small quantites of a family production of balsamic vinegar. The tradition wants these small glass bottles finshed by hand, and sealed with raw rope and red wax sealing. Ingredients: Must of cooked, sundried grapes; aged wine vinegar. Ageing: 12 years in wine barrels, with the addition of aged balsamic vinegar drawn from a series of centuries old casks.
Product information:
Product may differ from the picture.
Delivered product may be in a different packaging, colour and form.
Product description on the site may vary from the information on the product packaging, as the ingredients may vary.
We recommend always reading the information on the product packaging.
A Supplier: